EasyMapper Resources
Agility, productivity, speed
EasyMapper is a mind map app that focuses on improving the user experience. In this direction, it has features to automate many tasks, from content entry, elaboration, outputs (such as images and documents) and others, which is true agilification.
When you adopt new software, there is typically a learning curve: different functionalities, different controls. To speed up this curve for EasyMapper, a mind map of EasyMapper possibilities was made for everything you can do on it and respective controls for it, button icons and keyboard shortcuts.
On this page you will find this mind map of possibilities, the features in semi-structured text format and also a special section to improve the productivity of an activity that can be very laborious, the generation of mind maps of discursive texts.
EasyMapper possibilities mind map
The mind map below shows the possibilities for what you do on EasyMapper. It has some hidden levels, which have details not relevant to those who intend to only know the possibilities. This mind map is available in the app, Help button menu.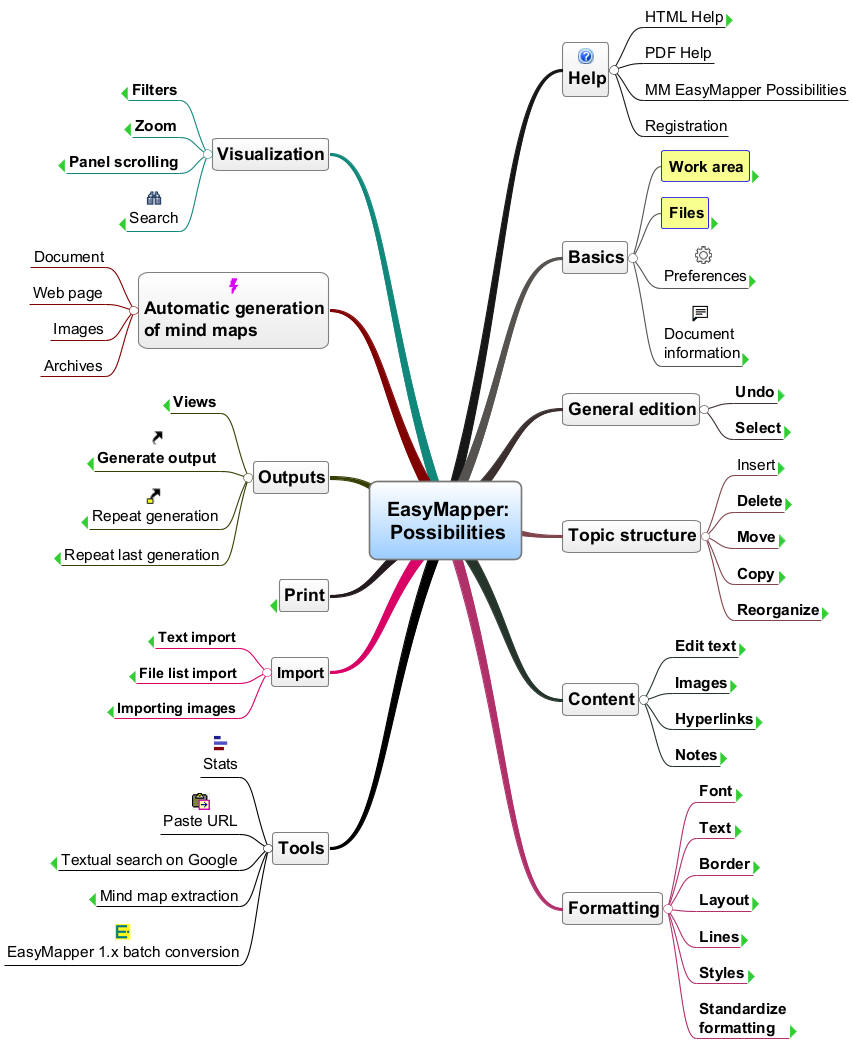 Resources in textual format
Basic
- Quick editing of topics (by simple typing)
- Automatic layout, radial or right, with spacing control
- Hyperlinks in topics
- Annotations in topics
- Undo and redo
Illustration
- Insertion of bitmap images (GIF, PNG and JPEG) with resizing and formatting of brightness and contrast.
- insertion of vector images (SVG, WMF, EMF), with resizing
- Search images directly on image sites from the text of topics.
Formatting
- Automatic formatting of new topics
- Copy topic formatting
- Quick topic reformatting by level
- Save and apply mind map styles
- Change background color of mind map views
Visualization
- Zoom with the keyboard, buttons or mouse sphere
- Scrolling the mental map by scroll bars, mouse sphere (vertical) or dragging the mouse (any direction)
- Textual search on topics
Automatic mind maps
- Text documents (DOC, DOCX, ODT)
- Web pages
- Folders and files
- Of images
Creating views (different views of the same mind map)
- Contraction of topics (hiding)
- Save and reuse views with contracted topics and distinct mind map formatting
- Automatic creation of mind map views
Generation of outputs
- Automatic and flexible generation of text document (doc, docx, pdf, odt)
- Automatic and flexible web page generation
- Automatic single-page PDF generation
- Generation of the mind map image or part of it to the clipboard.
- Export from mind map to text and image file (PNG, JPEG, SVG)
- Repetition of the last generation output
Import
- Paste text as topics
- Paste text as mind map
- Paste text as topic note
- Create mind map from text file
Printing
- Multi-page printing
- Print preview mode
- Increase and decrease in the print scale
- Fine-tuning of page cutting
Help
- HTML help
- PDF Help
- Contextual help (in dialogs)
- Mind map map of all the possibilities of the program
Other features and facilities
- Automatic mind map partitioning (extracting a topic as a mind map)
- Create mind map for topic
- Statistics of a mind map
- Sorting and rotating topics
- Selection of topics with the mouse by containment or contact.
Facilities for mindmapping discursive texts
- Creation of subtopics from notes or the text of a topic
- Copy text from the clipboard or drag text from other programs as topics
- Punctuation cleanup
- Case formatting
- Automatic increase and reduction of lines of text in topics.